Last time I talked about a magazine
, it was kind of desparate, but here we are again and I feel compelled to talk about this People magazine business because it is more interesting than talking about the flood-warning weather forecast for this Sunday's marathon, and because I need to know that we are all on the same page.
The Sexiest Man Alive is also the Biggest Idiot Whose Words Were Ever Quoted
The answer to how
I
--the most intellectual sophisticated lady of the land who only reads law review articles and the Economist (does my sarcasm
ever
come across well here?)--came to read a People Magazine is just a freak accident, an anomaly. But as I began to read, I was deLIGHTED and laughing my way through this Cover article on the man anointed Sexiest.
Please, enjoy every sad moment of this. These are real quotes. I cannot think of a duller person that exists, than Channing Tatum.
People Magazine blushing over his secret talent--He Can Cook!: I learned from living out on my own. You know, the staples--chicken, spaghetti, steak, taco night or whatever. (Swoon, yum or whatever).
On his Musical Talent:

I play guitar a little bit. But not really.

(Tatum, tell us a little about yourself in the emptiest way possible).
What he is self-conscious about:

My reading. I don't read out loud very well.

(Red alert! Red alert! Do not crush on this guy. Yikes.)
He sculpts:

I'd taken a pottery class in high school, but just, like, making pots and crap.

(w-w-wait--you made pots in pottery class?).
On finding out he was Sexiest Man Alive:

I told Jenna after we'd been in the bathtub washing our dogs because they'd gotten skunked. She was like, "What?!"

(And then you were both like, "like?!").
Explaining what he wears around the house:

...

I'm really good at sleeping. Sometimes I don't even shower; I just jump off our balcony into our pool. (Tatum. Congratulations on sleeping and sometimes not showering. You are extraordinarily ordinary. But did you hear the question?).
Thought bubble on a Sexy Portrait:

I saw a photo the other day and I was like, "wow, that's an older me." It's nice. I like it.

(His vocabulary is, like, so nice. And I can see how he might be surprised to learn from a picture that he isn't 12).
By the time I finished reading this article, I was using a Beavis & Butthead voice in my head to imagine his voice.
Even the fact that he looks like my FOREVER ADORED
JTT
, will not save anyone from the spiral of boredom that will surround you after a minute of conversing with Channing Tatum.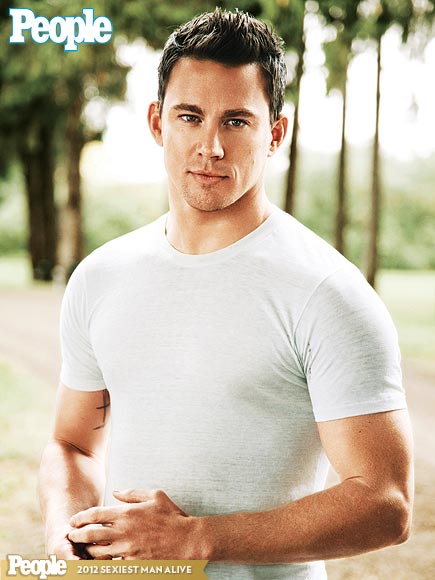 Also, Tatum, or Channing, whichever is your first name, you have two last names and it really confuses me. Jump Street was pretty cool though, so cheers.
**I know I'm being way harsh, and it is probably more fair to describe Mr. Channing/Tatum as "simple" rather than stupid. But there needs to be SOME discretion in choosing the Sexiest man Alive. Sexy does NOT exist without
some
smart. Harumph.**
Running Cliff-notes
I ran hard on the treadmill this a.m., 9.05 miles in one hour (6:37-ish pace?). It was only mildly uncomfortable to hold this pace, but I sadly I had to stop and stretch out my leg a few times when I got the "leg-lock" feeling. I wish I knew what to do to prevent it.
I have two important questions before I go:
1) Advice on what to wear to run a marathon in the rain.
Visor? shorts? tights? I'm worried about chafing in the thigh area due to wetness if I wear shorts, worried about chafing at the bikini line if I wear tights (this has happened before!), worried that my shoes of choice (Nike Pegasus 29) have weak tread and I may slip.

2) Yay or nay on changing my commenting system by using Disqus
, which is the kind of commenting that looks like this:
I'm guessing it is more user-friendly than the blogger-commenting. Thanks for the idea,
Keith
!
And that, my friends, is my first attempt at making progress on my dreary blog layout since, ever.